BLISS Meadows is a 10 acre land reclamation project geared toward food justice and creating equitable access to green space in northeast Baltimore City.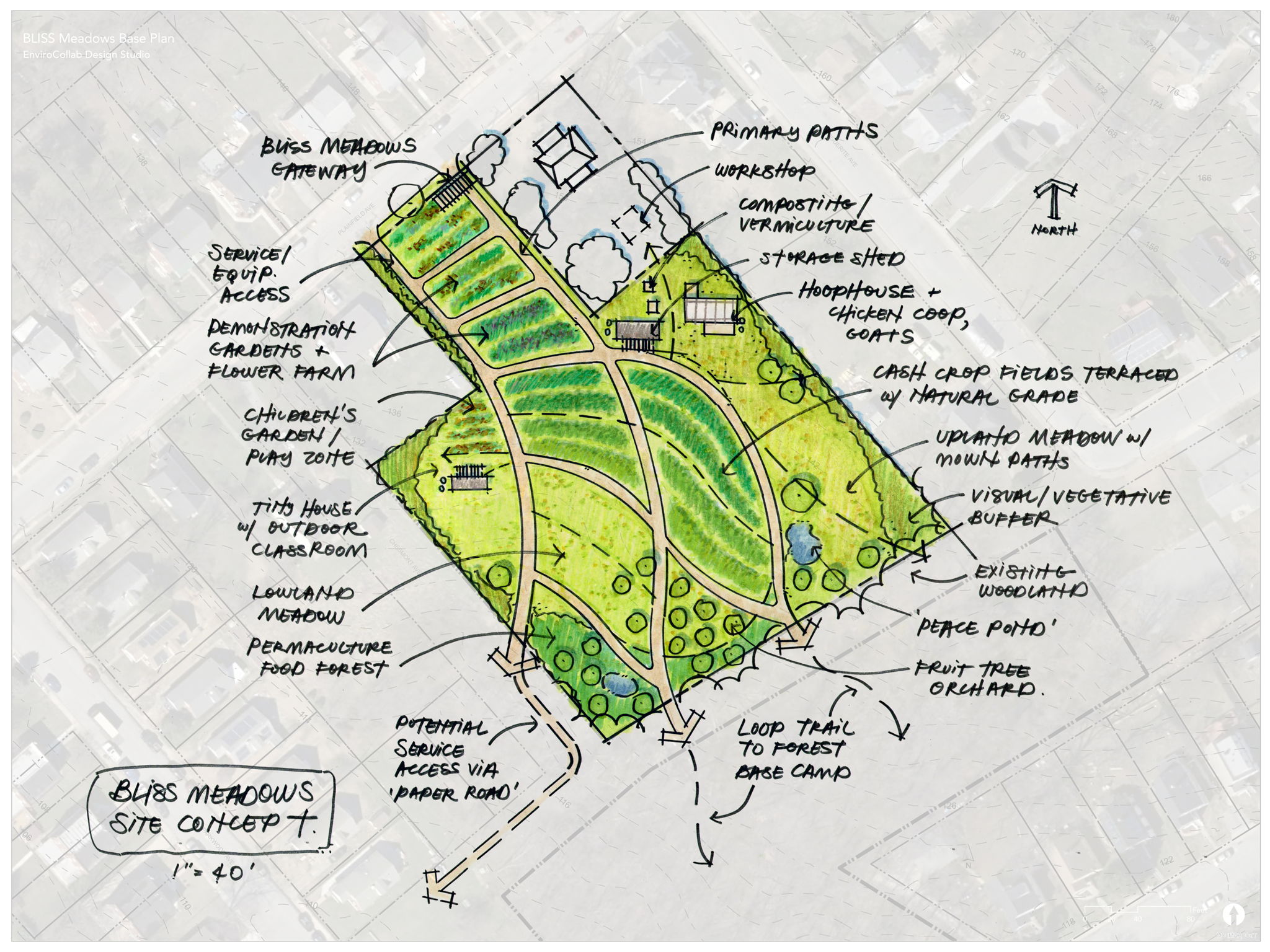 Our mission is

to engage communities of color in Baltimore on nature connection, self reliance, and sustainability.
Our neighborhood of Frankford houses more than 26,000 residents, 80% of which are African American. We are working to create access to green space and outdoor learning by developing community managed open space which will be a staple in our neighborhood. BLISS will house native plant meadows, children's activities, demo gardens, and environmental education.
With a 2.5 acre meadow, a 7 acre forest patch, and the farmhouse property, BLISS Meadows will preserve and protect roughly 10 acres of green space in Baltimore City.

In May 2019, we raised funds to purchase a vacant home adjacent to the meadow. We will use the house as indoor classroom space, bathrooms, a community kitchen, and secure storage for our program tools and equipment.

Your donation can help make the BLISS Meadows vision a reality: a community invested space where people come together to learn and develop an increasing sustainability mindset.

Thank you so much!
#BelieveInBLISS
Donate via Credit Card or eCheck
FAQ
Is my donation and credit card info secure?
Yes, the security and confidentiality of your information is our highest priority. We will not sell, trade or share your personal information with anyone else, nor send donor mailings on behalf of other organizations, and we will only share personal information if you have given us specific permission to do so.
Is my donation tax deductible?
Yes, we are a fiscally sponsored project of Strong City Baltimore, which is a public 501c3 organization recognized by the IRS. Your donation is tax-deductible to the fullest extent permissible by law.
How do I know that my donation was made successfully?
You will receive an emailed receipt immediately after your donation is submitted and your credit card is processed. Your donation will also show up on your bank or card statement within 1-3 business days.
Do I get a receipt?
Yes, a receipt is sent to your email inbox once your donation is processed. Please be sure to keep a copy of your receipt for tax purposes. If you select a recurring donation, you will be sent an individual receipt each period when your donation is processed.
Is my donation private?
We will not share or sell a donor's personal information with anyone else, nor send donor mailings on behalf of other organizations.